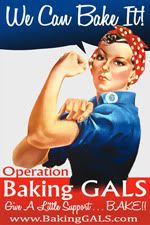 I signed up to be a Team Leader at

Baking

Gals and will be baking cookies to send over to a great group of soldiers in Afghanistan

. Want to help too? Head over to www.bakinggals.com and sign up to be on my team, Treats for Troops. I'm able to have up to 20 members on my team. As of today, there are 9 people on my team. I'd love to have a full group by mailing time.

You'll have to register on the site first (and wait for confirmation of your registration), since the information on the site is confidential. But, once you are registered, you'll be able to sign in, join my team, then you'll be given the information about the solider we're

baking

for on 10/3. Baked goods will need to be mailed between 10/4 - 10/13. You can bake as little or as much as you want, there are no specific requirements.
About Baking Gals:

Baking GALS (GALS stands for Give A Little Support) is a group of volunteer bakers from around the country who bake and ship homemade goodies to our heroic military men and women who are currently deployed in a war zone. Our goal is to show our support and send a little bit of home to remind them that we appreciate all that they do for our freedom.